Each earring that we manufacture holds a technical marvel that, is born from months of research. Choice of design would be largely influenced by personal preference but, durability is always a welcome feature. It is the quality of the hinge and clasp incorporated into the design, that is truly exclusive to the 'Hug & Click' earrings from Inthorn. The crisp 'click' sound generated when the the earring is pressed shut, symbolizes safety and peace of mind. The mechanism that forms the clasp keeps the earring locked and secure. Inthorn experts worked on developing the perfect clasp for several months.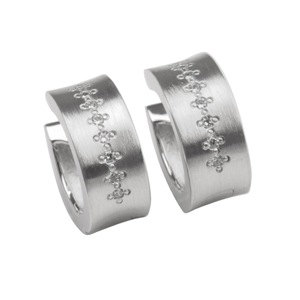 Liberal use of geometry and mathematics combined with fine craftsmanship, result in a clasp that remains sturdy and reliable even after hundreds or thousands of clicks. The smart mechanism for the hinge remains neatly tucked inside the earrings while the exterior gives little indication of its existence.
The Inthorn 'Hug & Click' earrings differentiate themselves from the dozens of 'huggies' that are offered in jewelry stores. Inspiring design work by our team has delivered an earring collection that lacks nothing in terms of design, gems, diamonds and fine workmanship. While we could boast of a superior collection based merely on external appearance, significant effort has been invested to enhance the durability of the earrings.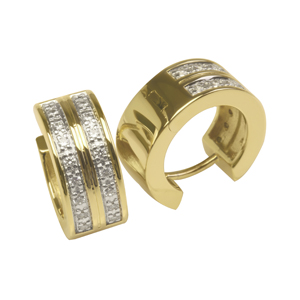 Available in a range of price points with options ranging from silver to 18k gold, our 'Hug & Click' earrings are encrusted with a range of attractive gems and diamonds. It is also possible to add an element of color through the selection of white, yellow or rose gold. Our design team can develop attractive concepts to target specific gold weights. We can also craft these earrings with design ideas provided by our clients.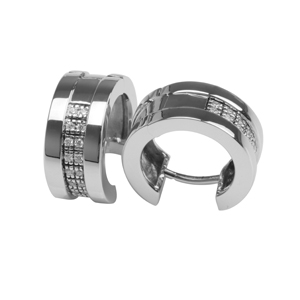 Hug & Click Highlights
Mechanisms developed after intense research by Inthorn specialists.
Long term durability, comfortable to wear.
Range of styles, designs and dimensions.
Choose from a wide selection of gems and diamonds.
Firm clasp, that will stay in shape for hundreds or even thousands of clicks.
Durable and neat hinge neatly tucked inside the earrings.
Gold options include 8k to 18k gold, select white, yellow or rose gold.
Can be customized to target specific price points or weight.