Jewelry Set, Made In Thailand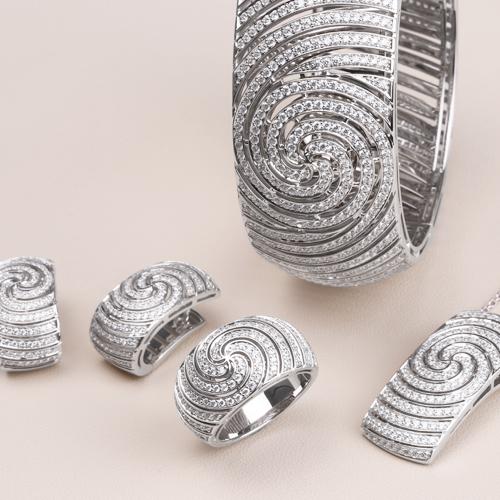 Designed and crafted in Thailand's most sophisticated jewelry factory at Inthorn, this jewelry set captures the finest craftsmanship and the best technology in the industry. Jewelry sets can be elaborate with design elements including gem settings that require superior crafting skills. High quality standards maintained in our jewelry factory are supported by a fully integrated system. With every activity on the production floor monitored through this system, we are able to consistently maintain quality even across medium to high volume orders.
Jewelry sets designed with multiple stones can add even more excitement by being studded with colored gemstones. Clients can rely on the expertise of the gem and diamond procurement team at Inthorn or, choose to provide their own stones. The ability to perfectly execute various types of gem settings in a wide array gemstones, makes it possible for us to accept orders for jewelry sets with virtually no limitation on design.
The price point, designs and gemstones required for each market can vary widely. Inthorn clients are better prepared to face market competition due to the wide range of options available to them. Jewelry sets can be ordered in gold ranging from 9k-18k, gold color options include white, pink and yellow gold. Clients can also stipulate requirements related to dimensions and metal weight. Since we have expertise to craft both classic and contemporary styled jewelry sets, clients can build their entire collection without having to deal with multiple factories.