Jewelry Sets From Inthorn Factory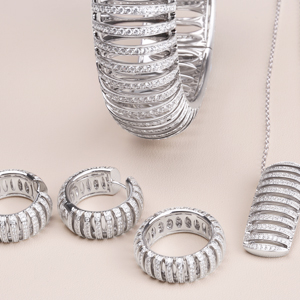 While jewelry sets can bring lucrative margins for sellers, designing and producing such jewelry can be quite complex. A good collection of jewelry sets will need to cover a range of styles and designs. It is quite common for a jewelry factory to specialize in a limited range of jewelry concepts. This forces jewelry sellers to work with multiple jewelry factories to fulfill all their requirements. Jewelry sets with their complex structures and important components like clasps, locks and hinges pose a challenge for most jewelry manufacturers.
Inthorn with it's advanced jewelry production facility in Thailand has the required expertise and technology, to manufacture virtually all types of jewelry sets in a wide range of gems and diamonds. Jewelry sellers can get all their jewelry manufactured at one place, this makes it easy to coordinate and manage. Essential components like hinges and locks, are required to reflect good aesthetics and functionality. Components assembled in Inthorn jewelry sets are developed and fabricated by our experts and this, helps raise the overall quality of the jewelry sets that we manufacture.
Clients can provide the designs for their jewelry sets or pick them from our existing collection. Our gem buying team can procure a wide variety of stones and diamonds but, we will be equally comfortable working with gemstones supplied by you.
Highlights Of Inthorn Jewelry Sets:
Crafted by highly skilled craftsmen using advanced jewelry manufacturing technology.
Designs for Inthorn jewelry sets can be picked from our collection or provided by the client.
Our craftsmen are comfortable with intricate design elements and complicated gem settings.
Gem and diamond encrusted jewelry sets can be ordered in 9k-18k gold.
Superior quality components like clasps, locks and hinges are fabricated by the technical team at Inthorn.
Our jewelry sets are designed to look good and maintain condition over long term usage.