Advanced Plating Facility At Inthorn
Technological Excellence.
The state-of-the-art equipment at Inthorn jewelry factory includes one of Thailand's most sophisticated jewelry plating systems. It is true that a gorgeous design set with fine gems and crafted by talented artisans, would mean little without quality plating. Often referred to as the 'important final step' in jewelry manufacturing, plating is often implemented as a hurried 'dip and pick' process in most factories. Our factory has made significant investment in the plating facility to ensure that, it is on par with the rest of the production line. The completely automated system from Unitech in Germany provides a high degree of accuracy with, stringent controls maintained for plating parameters like time, metal content in the solution and plating thickness. The staff operating this advanced plating equipment are thoroughly trained to understand and implement, all the comprehensive functions that the system was designed to perform.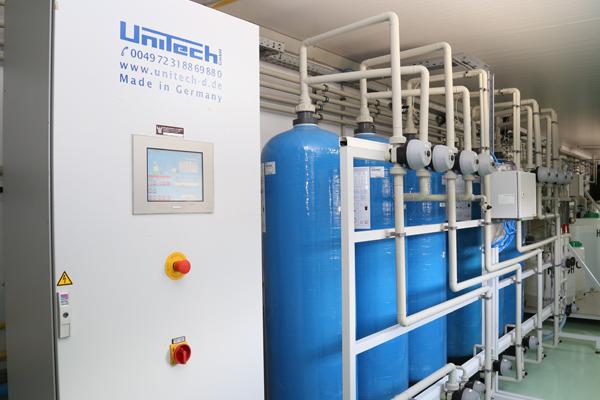 Social And Environmental Responsibilities.
While our unwavering commitment to product quality is appreciated by all our clients, we also take our social and environmental responsibilities seriously. This prompted us to install a complete Waste Management System, to recycle the water that is generated by the plating system. The water generated by the process contains various chemical elements, that might not be very friendly to the environment. Inthorn worked closely with Unitech to custom build a complete waste management module, that is fully integrated into the plating system.
Water that is generated from the jewelry plating process, is piped to the ground floor of the factory building and into the waste management plant. Complex chemistry and technical manipulations are applied to the water that is piped in. The treatment results in the generation of clean water that can be routed back to the jewelry production process. The dual benefit to the environment in terms of, reduced water consumption and the elimination of chemical pollutants, fully justifies the investment made in the Waste Management System.
The Preferred Jewelry Factory.
The quality of Inthorn products and services has earned the respect of jewelry sellers across the globe. Our esteemed clients further appreciate our commitment to social and environmental obligations, it highlights the fact that our business is not focused merely on financial profits.