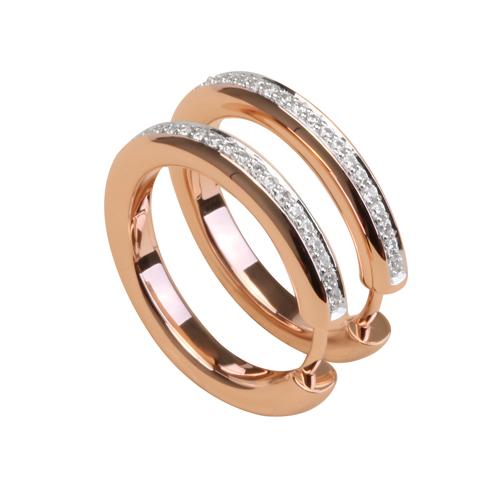 The Hug & Click, earrings from Inthorn are crafted in the state-of-the-art jewelry factory at Nakhon Pathom, Thailand. Technical innovation and quality craftsmanship differentiate these gold and diamond earrings from the regular 'huggies' offered by most jewelers. The mechanism that locks the earring is designed by our experts and is exclusive to Inthorn. The reassuring 'click' that you hear when the earrings are pressed to lock, ensure that the lock is secure and safe. The high precision mechanism is hand assembled by expert craftsmen and will, maintain it's functionality for many years.
These diamond earrings have versatility that will be appreciated by jewelry enthusiasts. The earrings can be ordered in sizes that correspond to a standard ring size. The wearer could then take off one or both the earrings and slide them on like a ring. The earrings which are smooth and solid inside make for a comfortable wear when worn as a ring. To create a trendy stacked up look, wear both the earrings on the same finger.
Available in gold ranging from 9k-18k, these diamond gold earrings from the Inthorn jewelry factory, can be ordered in yellow, white or pink gold. Gemstones and diamonds can be mixed and matched with colors that enhance the beauty of the earrings. Since we control the entire manufacturing process, the earring designs can be picked from our website, or be provided by the client.
Product Highlights:
Options for 9k,10k, 14k and 18k gold with a choice of yellow, white or rose gold.
Wide range of diamonds and gemstones to choose from.
Designs can be provided by the client or chosen from our website.
Can be ordered in ring sizes, this allows the earrings to be worn as rings.
Fine craftsmanship, the solid metal inside makes them comfortable to be worn as rings.