Gold Earrings From Inthorn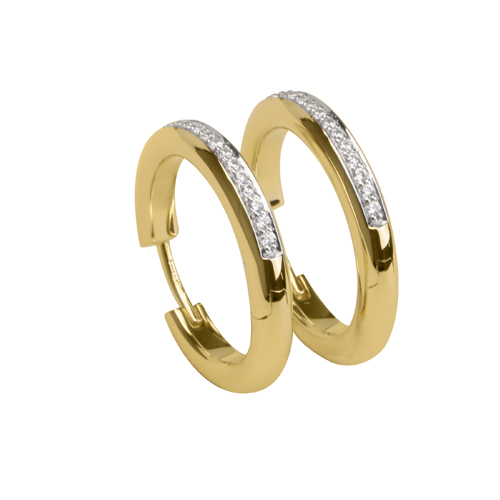 Gold earrings manufactured by Inthorn in Thailand's most advanced jewelry factory. While the beauty of these gold earrings is clearly visible, the quality of the locking mechanism and hinge is unique to our huggie earrings. Gold options for the earrings range from 9k-18k in yellow, white and rose gold. A variety of gems and diamonds can be picked for the stones in these gold earrings.
The smooth finish inside the earrings enhances the functionality of the jewel. Since the earrings are manufactured to match conventional ring sizes, it is possible to take them off and wear them as rings. It is easy to follow the stacked ring trend by, wearing both earrings on the same finger.
The technical expertise of the Inthorn team has led to the incorporation of significant improvements in the construction of these gold huggie earrings. The locking mechanism emits a reassuring 'click' sound which means that, the earring is securely locked. This mechanism was developed after months of research and will perform efficiently for thousands of clicks. The hinge, another important element of all huggie earrings is where we have invested substantial effort. While the hinge is mechanically superior to what is generally provided, it is also designed to be flush with the rest of the earring. This not only enhances the overall appearance of the earrings but also, provides additional comfort when worn as a ring.
Product Highlights
Manufactured in 9k to 18k gold with options for, yellow, white and rose gold.
Sturdy construction with no metal scooping inside.
Reliable locking mechanism, researched and developed by Inthorn experts.
Hinge is functionally superior with a streamlined design.
No limitation on design, designs from the client are welcome.
Can be encrusted with a variety of gems and diamonds.
Available in sizes to correspond to regular ring sizes.
Can also be worn as a ring.