Huggie Gold Earrings From Inthorn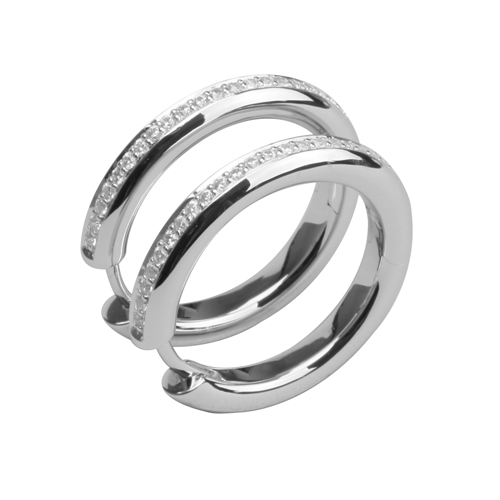 The jewelry factory at Inthorn has researched the well known huggie earring concept and come up with some valuable enhancements. The improved design configuration of our gold huggie earrings is so very superior as compared to conventional huggies that, we decided to choose a unique name for them. 'Hug & Click' is an apt name for our huggie earrings. The improved features of our huggies positively influence the beauty, style and durability of the jewels. Gold huggies can be ordered in 9k, 10k, 14k or 18k gold and metal color choices include white, yellow or rose gold. While we welcome orders for plain gold huggie style earrings with no gems or diamonds, we can also design and craft huggie earrings with gems and diamonds. Skilled gem setters at our Thai jewelry factory, ensure that each handpicked stone is firmly set in the metal, to withstand years of regular wear.
While the appearance of our huggie gold earrings is clearly better than what our competitors offer, other special features have also been incorporated into the design. The locking mechanism that goes into each pair of Inthorn 'Hug & Click' earrings, is invested with a high degree of technical expertise. Our experts spent several months to design, experiment and finalize the blueprints for the lock. The final design involves complex geometry and mechanics and every lock is meticulously assembled by hand. Bring the lock together and press it in place, hear the sharp click - the sound tells you that the lock is securely shut. Is is rightly said that the life of huggie earrings depends on the quality of the lock - our mechanisms retain complete functionality even after hundreds or thousands of clicks.
Observe the smooth finish on the gold huggie earrings shown in the image, you can hardly notice the hinge that is assembled into the earring. The hinge in most huggie earrings can be seen far more glaringly and this, distracts from the overall streamlined look. The 'Hug & Click' earrings made by our jewelry factory provide a precisely shaped and sized hinge. Backed by the skills of trained artisans the hinge is fixed to be as unobtrusive as possible, you might not even notice it's presence with a casual glance.
Move your eyes to the inside of these huggie earrings, the solid gold structure with no metal scooping provides a luxury touch. It also adds amazing functionality to the earrings, something that is rarely experienced in such earrings. Our huggie earrings are manufactured to match standard ring sizes, and this means that you can take off one or both earrings and slide it on your finger. The smooth inside finish, provides a comfort wear feel when the earring takes on the role of a ring.
Product Highlights:
Manufactured in all three gold colors, options for 9k-18k gold.
Sturdy construction, no scooping inside the earrings.
Designs can be picked from our collection or provided by the client.
Secure and durable locking mechanism, developed exclusively for Inthorn.
Can be encrusted with most gemstones and diamonds.
Sizes to match conventional ring sizes.
Equally attractive and comfortable when worn as a ring.
Hinge is designed and fixed to be discrete and seamless.