Gold Jewelry Sets, Thai Manufacturer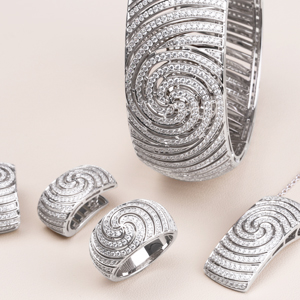 With talents, skills and the latest jewelry production infrastructure, Inthorn delivers consistent quality across a wide range of styles and concepts. Creative designs are lavished with the intense dedication of highly skilled craftsmen and encrusted with handpicked gemstones and diamonds. Gold jewelry sets can be crafted with designs provided by the client and can be ordered in 9k-18k gold. Superior external beauty combines with, researched design specifications to help in the creation of attractive gold jewelry sets in white, yellow or pink gold.
Expertise in a wide range of design concepts, ensures that our jewelry factory efficiently fulfills requirements for jewelry sets with modern or classic themes. With highly trained staff working with the latest technology for jewelry production, we are able to deliver high quality jewelry sets even for medium to high volume orders.
Gold jewelry sets can be designed and crafted to cater to a range of price points. Client's can use the services of our experts to procure gems and diamonds for their jewelry or, supply their own stones. Gem setters at Inthorn are comfortable with even the most complex gem setting procedures, this allows clients to pick jewelry designs that are high on creativity and style. Besides providing three gold color options, we can also accommodate requests for unique metal texture or finishing.
Gold jewelry sets that include bangles and earrings are provided with locks and clasps that, are designed by our experts. These small but important devices are exclusive to Inthorn jewelry and emphasize on comfort, functional utility and aesthetic appeal. In today's highly competitive jewelry markets, sellers who offer jewelry with advanced features are very likely to gain market acceptance. With no other jewelry factory in Thailand able to match our unique combination of high skills and state-of-the-art production environment, we remain the preferred source for jewelry sets sold in quality conscious markets.
Jewelry Sets Highlights:
Designs can be picked from our collection or be provided by the client.
Jewelry sets can be ordered in yellow, white or rose gold with options for 9k-18k gold.
Clients can provide gems and diamonds or rely on our expertise to procure them.
Designs can incorporate complex gem settings and intricate design elements.
Each jewelry set gets the undivided attention of highly skilled craftsmen.
Important components like, clasps and locks are designed and crafted by Inthorn experts.
Equal emphasis is given to beauty and features to ensure capacity to withstand long term usage.