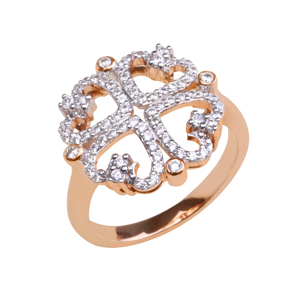 One of the most popular precious metals, gold is a commodity that symbolizes beauty, value and status. With extreme competition ruling gold jewelry markets, quality and price points can be strong factors for product differentiation. As jewelers try to please consumers with attractive prices, gold rings are being increasingly designed and crafted with lower gold weights. In a bid to attract more buyers, sellers offer intricate designs and unconventional gem and diamond settings. This brings up challenges for jewelry manufacturers and not all can deliver the quality expected by sellers.
Success under these circumstances can best be achieved by teaming up with the right manufacturer for gold rings. The Inthorn jewelry factory situated about 50km from Bangkok in the Nakhon Pathom province, is equipped with state-of-the-art production equipment and staffed by some of the best talents in the the industry. Expertise in a wide range of styles and designs, combined with an in-depth knowledge of gems and diamonds allows, us to consistently deliver quality even at medium to high production volumes. Our collection of gold rings represents hand picked selections from various markets, we can also manufacture jewelry based on specifications and designs provided by the client.
Gems and diamonds set in gold rings can add beauty and glitter to the jewels. At the same time, stone procurement is a time consuming activity on its own. Sourcing gems, negotiating prices and the understanding of issues like quality, origin and treatment require highly professional knowledge. Clients can use the services of our experienced gem buyers, or provide their own stones. Our expert gem setters can efficiently handle all types of gem settings and are comfortable working with a wide array of gemstones.
Production experts with many years of experience and regular training, ensure that strict adherence is maintained to product specifications and quality standards as agreed with the client. The production control unit is backed by one of the most comprehensive integrated systems in Thailand. Since information is collected by the system all through the production line and proactive measures put in place, the chances of last minute delivery delays and quality related issues is very slim. This comprehensive approach to manufacturing jewelry means that, your gold rings are with the right manufacturer when they are with us.
Why Choose Inthorn:
Thailand's best equipped jewelry production facility.
Combines the latest technology with expert human skills.
Geared to handle the entire production process from start to finish.
Virtually no limitation on design and gem selection.
Artisans comfortable with intricate design elements and complex gem settings.
Production control supported by fully integrated system.
Strong commitment to quality and delivery schedules.